IN Love & Marriage: Fitzgerald-Brousse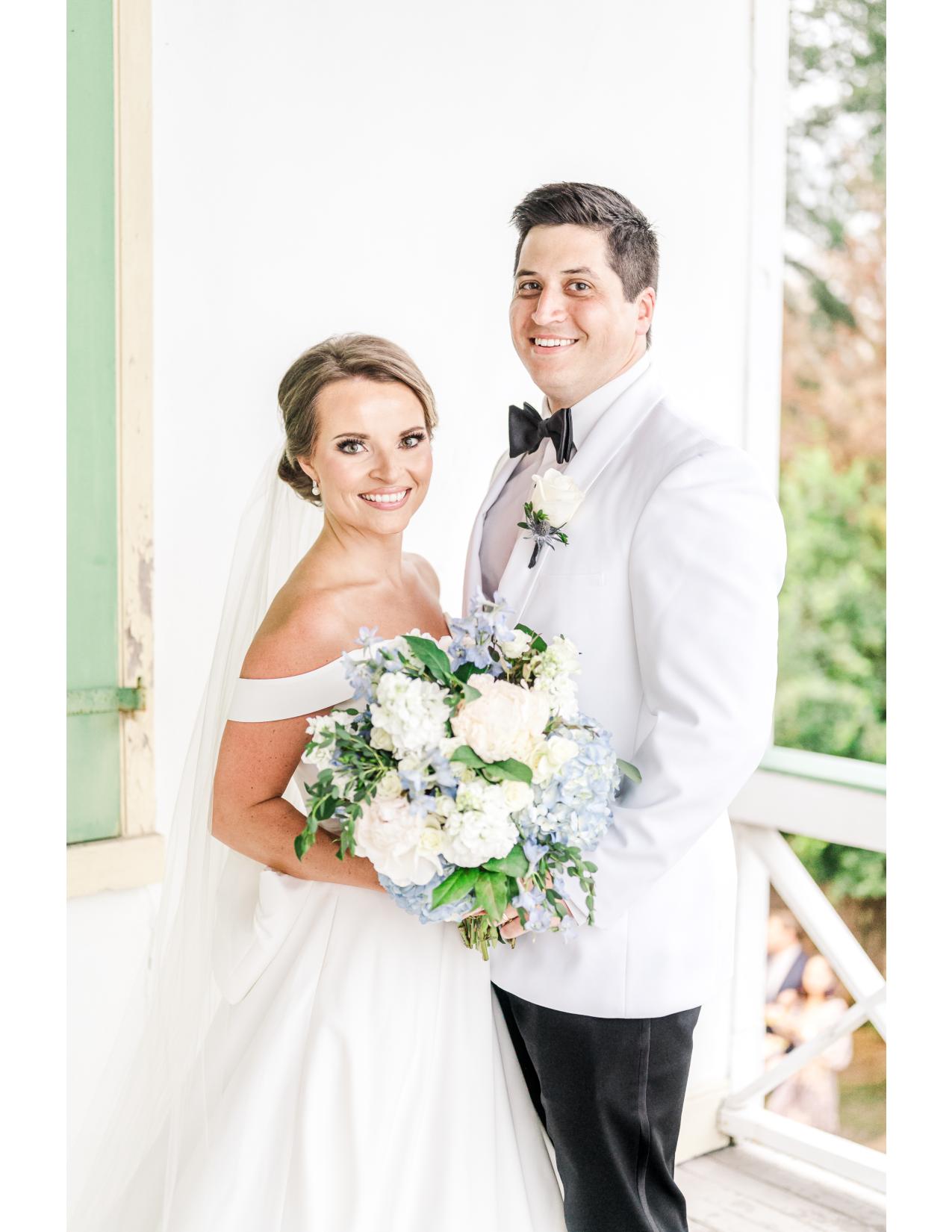 Haleigh Kirkland Photography
by Sarah Spencer
On a beautiful Saturday, Dr. Brandon Robert Brousse and Phoebe Calland Fitzgerald celebrated their love with their friends and family at Our Lady of the Rosary Catholic Church in New Orleans. Phoebe graced the aisle in a white, off-the-shoulder satin ball gown with a sweetheart neckline, pockets, and buttons running down the back of the train, designed by Essence of Australia and purchased at Low's Bridal in Arkansas. A giant satin bow was custom made and attached to the back of the dress. Her bridal party wore pale blue one-shoulder gowns from Bella Bridesmaids, while bouquets from Beth's Flowers provided exquisite decorations. The ceremony was performed by Father Edwin Gros. Father Gros' homily was sweet and funny, and talked about how the couple quarantining together and adopting a kitten in 2020 solidified that they both wanted to spend the rest of their lives with one another. They brought flowers up to the Blessed Mother during the ceremony, and proceeded out of the church to a bagpiper wearing a kilt, who then led them to the reception.
            They held their stunning outdoor reception at The Pitot House on a steamy May night. Southern Hospitality Event Rentals strung bistro lights, provided a greenery wall with a pink neon sign that said "The Brousses," and fresh blue and white hydrangeas on every table in honor of the bride's grandmother, which were her favorite flower. Don's Catering provided the food, the groom's "cake" were mini cannolis from Angelo Broccato's, and the cake, by Helen Morel's Cakes, featured custom Mardi Gras beads with the wedding date. In addition, there was a glitter bar set up for guests with Painted Faces by Emily; a shot luge made of ice for people to pour down their signature shots, the Hotty Toddy and the Tiger Bait; the band, The Bucktown Allstars, played "Callin' Baton Rouge" and a few other LSU favorites (the groom played trumpet in the LSU Tiger band); and a Second Line that strolled down the street and across the Bayou St. John bridge, where a vintage Rolls Royce was waiting for the couple. The Second Line napkins and custom cups looked like the Jazz Fest logo, but instead were Phoebe, Brandon, and their two cats and dog. All of the magic was captured by Haleigh Kirkland Photography.
            Phoebe and Brandon spent their honeymoon in Punta Cana, Dominican Republic. Phoebe and Brandon reside in Covington, LA with their two cats and one dog. Phoebe works for JBL Publishing LLC as an Account Executive with Inside New Orleans and The Sanctuary Living Magazines. Dr. Brandon Brousse is a Gastroenterologist for the Gastro Group in Covington. Congratulations, Phoebe and Brandon!