Cover Artist Kelly Boyett
SINCE MOVING to New Orleans in 2011, this month's cover artist, Kelly Boyett, is grateful for the success this city has brought her. New Orleans has become her muse, and Boyett has drawn inspiration from Michalopoulos, Frenchy, and Alex Harvie to create her energetic, colorful art. It's the live action of a party that defines what Kelly Boyett creates.
Boyett grew up in rural north Louisiana and quips that it was just like Steel Magnolias with her mother rolling perms and shaping mullets in her hair salon. Her mother, along with other members of both sides of her family, would dabble in painting landscapes in her spare time, but in a small town with little means, Boyett realized she would eventually have to break away to seek out a place with the resources to nurture her passion.
For Boyett, it was clear that she would be an artist, but it was not until high school that she realized art just might become her profession. Boyett credits her art teacher Mrs. Debbie Leggett as her mentor. Leggett gave Boyett the independence to create murals on the walls of the high school and local elementary school. Soon, the clubs and athletic teams turned to Boyett for their logos and t-shirt designs.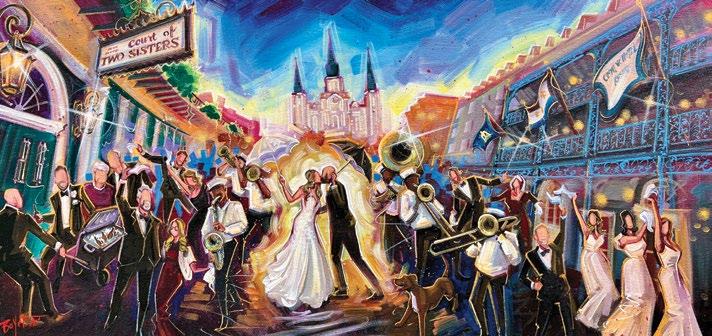 While pursuing a degree in graphic design, Boyett started teaching classes at the local Painting With a Twist. She transferred to the New Orleans location when she moved here."Little did I know that corporate headquarters were located in Mandeville, and one night the founders happened to be sitting in one of my classes," says Boyett. "They took a shine to me which landed me a position
as a corporate artist. This new job had me flying all over the nation hosting grand openings of new franchise locations and training fellow artists on how to lead entertaining classes for novice painters. This was my first taste of real success as a professional artist. Cathy Deano, one of the original founders, continues to be a huge influence in my life and career. She helped set the foundation for where I am today."
As the teacher and host of painting parties, it makes perfect sense that Boyett's career has evolved into painting live venues. During her whirlwind adventure with Painting With a Twist, she was asked to perform her first live wedding painting. As far as she knows, Boyett was the first female on the scene. "It was an intimidating start," she says, "but I soon developed my own unique style and coined my signature 'halo' around the subjects of my paintings." At first, she would hustle to finish the painting onsite, but over time she has decided to finish details in her studio later. This way she can incorporate any special requests that the host or newlyweds wish to include. Cats on tables? Dogs on the dance floor? Yep! Boyett was once asked to add a couple's pet squirrels swinging from the chandelier. Another memorable addition was incorporating Beyoncé as a guest. It's all about having fun with it and making people smile.
Boyett begins painting with acrylics roughly an hour before the event begins, just to lay down the bones of the piece and get a little jump start before the chaos ensues. She explains, "I don't have a plan, and I don't want to have a plan. I like to say the painting creates itself with the ever-changing surroundings. I'm just having a great time and guiding the brush." Once she has created a painting, Boyett wants her viewers to enjoy the painting as if they are part of the scene. She wants to conjure the senses so that the painting allows the viewer to hear the music, taste the cold beer, feel the dampness of the humid Louisiana evening, and smell the moss in the oak canopy.
Boyett has not limited herself to live painting. Her in-studio process is a bit more structured. In the studio, she focuses on completely different subjects and arrangements. She considers herself a mixed-media artist because she works with an endless variety of materials, such as wood, styrofoam, found objects, and glitter —lots of glitter. While recovering from surgery from a broken ankle last year, Boyett studied simple electrical wiring and taught herself how to solder. Now she has incorporated LED neon lighting into some of her pieces. She is excited that they have been well received.
One of the most difficult times for Boyett was when she lost her mother to cancer in 2016. "I've always leaned toward capturing happiness in bold color to keep my spirits high. It gives me joy to bring that positive energy into other people's lives." Boyett continues, "Metaphorically speaking, I consider myself to be just as resilient as our beloved New Orleans. We may be beaten, but we always rebuild and drown our sorrows in color and confetti."
You can see this color and confetti by joining us for our cover artist party on Thursday, March 9 from 6-8 P.M. at Kelly Boyett's new gallery, 4516 Palmyra Street. kellyboyettart.com.